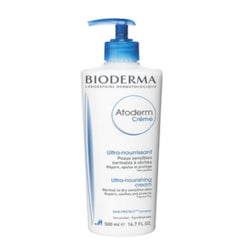 Bioderma Atoderm Crème
Ultra-nourishing and protecting daily care.
Skin Type
Dry sensitive skin
INDICATIONS
FACE - BODY - ADULTS - CHILDREN
PRODUCT BENEFITS

Lastingly moisturises.
Provides softness and suppleness from the first application.
Guarantees excellent tolerance.
Creamy texture.
Product + :
80% more moisture upon application.
HOW TO USE

Once or twice a day - 7 days a week.
Apply Atoderm Crème on your skin after cleansing and gently drying.
The moisturising effect of Atoderm Crème is optimised if you apply it on lightly moistened skin (after a bath, shower or mist).
GOD TO KNOW

Unfragranced
Available in a scented version
Non-comedogenic