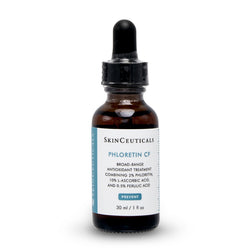 Skinceuticals PHLORETIN CF® WITH FERULIC ACID
A patented daytime vitamin c antioxidant face serum that delivers advanced environmental protection and diminishes the appearance of fine lines and discoloration.
Skin Type
Normal, Oily, Combination 
SKIN CONDITION
Discolorations, Acne, Aging
PRODUCT DETAILS
Phloretin CF features a patented synergistic combination of 2% phloretin, 10% pure vitamin C (l-ascorbic acid), and 0.5% ferulic acid for enhanced protection against atmospheric skin aging – environmental damage and premature signs of aging caused by free radicals from UVA/UVB, infrared radiation (IRA), and ozone pollution (O3). In addition to antioxidant protective benefits, Phloretin CF improves the appearance of discoloration, fine lines, and uneven skin tone. Provides advanced environmental protection by neutralizing damaging free radicals Improves the appearance of discoloration and overall skin tone Once absorbed, this vitamin C serum remains effective for a minimum of 72 hours Paraben-, fragrance-, and dye-free Ideal for normal, oily, and combination skin types
Amplifies skin's hyaluronic acid levels by 30% Reduces the look of crow's feet, nasolabial folds (parenthesis around the mouth or laugh lines), and marionette lines (lines from the corners of the mouth down to chin) for smoother, firmer skin Delivers long lasting hydration to visibly improve skin's texture Unique serum-gel texture format creates a smooth canvas on skin Paraben- and dye-free, ideal for all skin types Can be used as home care after dermal fillers; always consult with a physician for individual regimen recommendations.
HOW TO USE
In the morning after cleansing and toning, apply 4-5 drops to a dry face, neck, and chest before other skincare products. May be used on the back of the hands. It is normal for vitamin C products to darken after opening due to air and light exposure. The formula will remain effective. Once opened, it is recommended to be used within 3 months of opening.
Complete your regimen with a SkinCeuticals sunscreen. When used together, SkinCeuticals antioxidants and broad spectrum sunscreens provide the most complete protection against visible aging caused by environmental aggressors.
SCIENCE & PROOF
SkinCeuticals research shows that specific combinations of antioxidants, when effectively formulated, provide superior results to each single antioxidant formulation.
Phloretin CF is a triple antioxidant cocktail formulation shown to provide broad-range environmental protection due to a synergistic combination of 2% phloretin, 10% pure vitamin C (L-ascorbic acid), and 0.5% ferulic acid. It is formulated under the Duke Antioxidant patent. Vitamin C is a highly-potent antioxidant that is, by its structure, difficult to effectively deliver on skin. The Duke Antioxidant patent describes the formulation parameters required for effective delivery of vitamin C to skin: 1) pure l-ascorbic acid (vitamin C); 2) an acidic pH within the 2.0-3.5 pH range and; 3) a concentration between 10%-20%. SkinCeuticals is the only brand to formulate antioxidants according to these parameters.
SHIELD AGAINST ATMOSPHERIC AGING
SkinCeuticals defines atmospheric aging as the visible result of a range of environmental aggressors on skin, including UV, infrared radiation (IRA), and pollution. Ongoing SkinCeuticals research shows that over-exposure to these aggressors may cause visible skin aging, and topical antioxidants can help prevent the impact to skin.