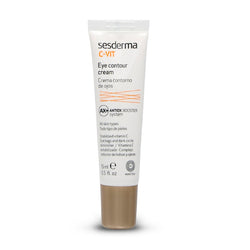 Sesderma C-VIT Eye Contour Cream 0.5 fl. Oz
Moisturizes and tightens your skin while diminishing the appearance of wrinkles and lack of luminosity. This vitamin C complex formula targets puffiness and excess of and dark circles. Helps to increase your natural glow around the area giving you a youthful look.
The skin around the eyes is very thin and delicate, so you need a specific care to keep it moisturized and protected. C-Vit Eye Contour Cream is a Light emulsion with a pleasant orange scent. Lights up your face, bringing light and returning all its energy. Sweet orange extract performs a gentle exfoliation eliminates dead cells and promotes cellular renewal facilitates the penetration of vitamin C. Every day your skin will be firmer, smoother, hydrated and luminous. The Complex helps to improve the appearance of puffiness and dark circles around the eyes. C-Vit Eye Contour Cream attenuates the signs of fatigue and crow's feet, may help to reduces puffiness and dark circles, brings light to the eye and gives the skin all its vitality.
2% vitamin C stabilized, 6% dark circle reducer complex, organic silicon and sweet orange extract.
Take a small amount of product, apply with fingertips to the eye area (from inside to outside) with some gentle touches. You can apply it in the morning and / or evening.